Before we dive into LinkedIn, let us ask you a question. What are the objectives of your Inbound strategy? Take a look at the following list and mark which ones are yours
{{cta('bb2971b9-bf36-4c36-8edc-75223dba5208')}}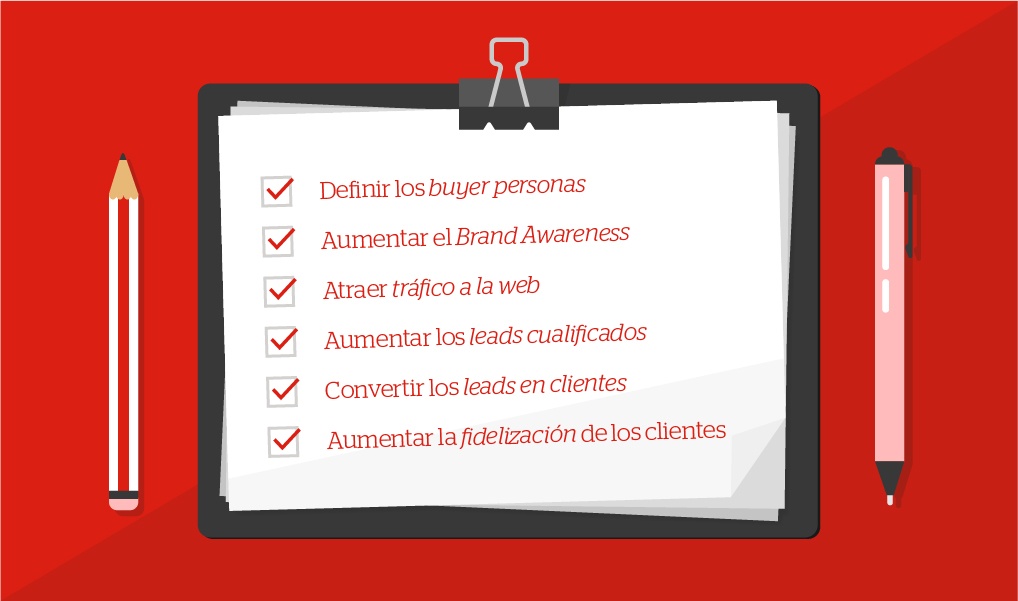 Sound familiar? Of course, every company that works with Inbound Marketing has those objectives that follow the SMART formula. Regardless of the type of company, the basis of the objectives is the same, but applying concrete numbers and actions to achieve them.
LinkedIn can help you achieve all of these goals. As LinkedIn is a professional social network, users use it primarily with a business idea in mind, and for that reason it is especially useful for B2B businesses. But B2Cs can also benefit from this social network. Here we explain how you can use LinkedIn in your Inbound strategy.
Define buyer personas
| | |
| --- | --- |
| | Inbound Marketing starts with defining your buyer personas. Use LinkedIn to research and complete the profile of your buyer personas. |
1. Research the profiles of your current and former customers.
What are your interests? – See interests (following pages) and their activity.
What is your professional history? – See experience.
What is your education? – See education.
Other characteristics such as skills, languages, etc.
2. Research professional interest groups
What groups do your customers belong to?
What are your questions and points of interest?
What topics and what type of content generates the most interactions in these groups?
Increase Brand Awareness
| | |
| --- | --- |
| | There are 200 million registered LinkedIn users worldwide. 35% of the users of this network use it on a daily basis. If your customers are on LinkedIn, you need to use the platform to spread the word and increase Brand Awareness of your business. |
1. Use your most loyal promoters – your employees.
The power of personal profiles compared to corporate profiles is greater for one simple reason: people prefer to deal with people, not brands. Using your employees' professional profiles is as beneficial for them as it is for your business, so why not improve and grow together?
Tag them in your publications.
Ask them to publish and share your posts.
Increase the number of interactions of your posts with your employees' comments.
Ask them to tag your business in their posts.
2. Join groups and share your content in them.
81% of LinkedIn users are in at least one group, which means that your potential customers are already members of one, and may even be very active in that group.
3. Comment on your Newsfeed posts.
4. Follow the pages of different companies.
5. Promote your content with LinkedIn ads.
Attract traffic to the web
| | |
| --- | --- |
| | Did you know that you can improve your SEO with your corporate profile on LinkedIn? With these simple techniques, you can optimize your LinkedIn profile to achieve higher organic search rankings.. |
1. Use your keywords
Keywords will help you to position your website if you use them in your profile texts and your LinkedIn posts. You can use them:
In the description title (top)
In the attractive description of your business
In the Specialties section< of your page
In your publications
2. Publish your Blog content on LinkedIn Pulse
LinkedIn Pulse is LinkedIn's own tool with which you can publish your articles on the network and optimize this article for search. And here you may wonder if this copy/paste trick on other sites will hurt your SEO rankings and if this strategy will generate growth, or if it will hurt you.
The truth is that by taking the content you are publishing and reposting it on sites like LinkedIn, you can multiply the views of your content and grow your audience. However, it is not enough to copy/paste content from these sites, you must also think of creative ways to drive those visitors to your website to grow your leads.
Increase qualified leads
| | |
| --- | --- |
| | Lead acquisition is one of the most important elements of your Inbound strategy and LinkedIn can help you increase the number of leads. In our blog we already talked about the use of LinkedIn to attract new customers, where we explained the most direct ways to find them. However, lead generation does notend there. So how can LinkedIn help you capture new leads? |
1. Place a CTA on your corporate page.
Use the banner function on your corporate page. Design an attractive call to action (CTA) that links to a landing page on your website.
2. Interact with industry groups.
An active and proactive attitude will help you become a Thought Leader, enhancing your brand reputation and building trust with your potential customers. Offer content of interest, start and maintain networking conversations with your target audience.
3. Create a professional interest group
No group from your industry? It is not a problem but the opportunity. Create your group with your rules and your target audience. Gain authority and respect as a professional and project it to your company.
Convert leads into customers. Increase customer loyalty.
| | |
| --- | --- |
| | The last two steps of the Inbound strategy are to convert leads into customers and delight them, increasing their loyalty and motivating them to become your brand promoters. And you don't know what? LinkedIn can help you too! |
1. Stay active and keep posting.
You already have your corporate profile well done, you are posting meaningful content and you are actively participating in groups. Apply your Inbound strategy following the buyer's journey of your contacts, create content for each step.
2. Identify and encourage your active defenders.
Listen to your audience and identify who is talking about you. Encourage your most active advocates and reward your customers.
3. Improve customer service
Use LinkedIn as a communication tool where your customers can always rely on finding you. People are more loyal to companies that offer excellent customer service, so why not use LinkedIn to improve and increase the loyalty of yours?